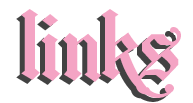 This space is dedicated to amazing sites that I love and inspired me to learn html and start my own page.
If you want to be affiliates, feel free to add my button to your site!
Be sure to contact me on my guestbook, e-mail or instagram, I'll link you back!

I'd love to make friends!


Lolita Sites


Elegant Gothic Lolitas of Neocities





CynicalNeoPrincessism || The Frump Zone || Prima Ange

Favorite lolita brands

TBA

The Princess Code

Which I miss dearly

Web Resources

Backgrounds and lots of lovely details:


Index photo and home photo: Kamikaze Girls movie.


This site is best viewed at 1920x1080 resolution, in Google Chrome.

---